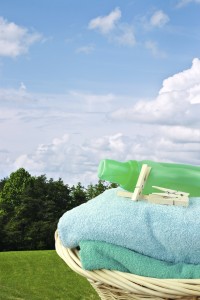 Eco Cleaners is committed to being a green leader in all aspects of its business practices.  From being the Canada's first non-toxic dry cleaners, to using recycled and bio-degradable packing materials, to eco lighting in our shops and efficient state-of-the art machinery.
It's not a simple manner of just recycling metal hangers.  But we do that too.
Along with the first non-toxic dry cleaning in the Nation, Eco Cleaners also uses the most efficient equipment available and greenest bio-degradable detergents making our laundry services truly eco-friendly as well.
The hot water we use to launder garments is heated through the distillation process of our dry cleaning machine. During the dry cleaning process, the non-toxic bio-degradable liquid used to dry clean garments is recycled and reused by heating the liquid into steam thus separating it from the dirt. This steam is condensed back into a liquid by cooling it with cold municipal water. As the water cools the steam back into a liquid, the water is heated. This heated water is then transferred to a reserve tank in our boiler room where it is further heated by the residual free heat from the boiler. This innovative process allows us to reuse our dry cleaning solution over and over again, and to use heated water for laundering without or with the utmost minimal use of energy.
Such commitment, effort and innovations are what makes us leaders and pioneers in our industry.