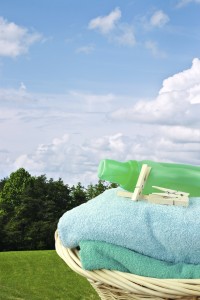 Eco Cleaners is committed to being a green leader in all aspects of its business practices.  From being the Canada's first non-toxic dry cleaners, to using recycled and bio-degradable packing materials, to eco lighting in our shops and efficient state-of-the art machinery.
It's not a simple manner of just recycling metal hangers.  But we do that too.
Along with the first non-toxic dry cleaning in the Nation, Eco Cleaners also uses the most efficient equipment available and greenest bio-degradable detergents making our laundry services truly eco-friendly as well.
The hot water we use to launder garments is heated through the distillation process of our dry cleaning machine. During the dry cleaning process, the non-toxic bio-degradable liquid used to dry clean garments is recycled and reused by heating the liquid into steam thus separating it from the dirt. This steam is condensed back into a liquid by cooling it with cold municipal water. As the water cools the steam back into a liquid, the water is heated. This heated water is then transferred to a reserve tank in our boiler room where it is further heated by the residual free heat from the boiler. This innovative process allows us to reuse our dry cleaning solution over and over again, and to use heated water for laundering without or with the utmost minimal use of energy.
Such commitment, effort and innovations are what makes us leaders and pioneers in our industry.
Eco Cleaners Environmental Partnerships
Eco Cleaners has worked with the Environmental community to better our selves, other businesses and our city.
Toronto Environmental Alliance
GreenSaver
Clean Air Foundation
GreenCircle Salons
Eco Cleaners worked alongside the Toronto Environmental Alliance (TEA) to campaign for the Community Right to Know bylaw.   Requested by the CBC for our Environmental leadership in the community, Tim Yoo of Eco Cleaners appeared on its news program after David Suzuki to offer his insights into the campaign.  We have also through TEA, petitioned and gave testimonials to the city of Toronto in favor of our citizen's right to know if their neighbouring businesses is spewing toxic chemicals into their backyards.  In 2008, Eco Cleaners helped our city to pass the first Community Rights to Know by-law in Canada.
In an effort to green our building, Eco Cleaners partnered with GreenSaver to perform a complete energy audit of our infrastructure.  From energy efficient lighting, HVAC, machinery, every aspect of our operations was inspected, modified and changed to maximize efficiency and sustainability.

GreenSaver is Ontario's oldest not-for-profit organization providing energy audits, insulation, solar and green home and business consulting services.

Eco Cleaners is the first and one of the only dry cleaners in the city to be Cool Shops certified by the Clean Air Foundation.  A certification awarded to the greenest of businesses for their environmental leadership, energy conservation and efforts to improve environmental health.

The Clean Air Foundation is a national not-for-profit organization, dedicated to developing, implementing and managing public engagement programs and other strategic approaches that lead to measurable emissions reductions to improve air quality and protect the climate.

Eco Cleaners partnered with Green Circle Ideas and Green Circle Salons to help implement green cleaning services to its salons and spas.

GreenCircle Salons is an innovative organization whose mission is to provide green solutions to the salon and spa industry.
Eco Cleaners have also donated its services to countless non-profit and charitable organizations such as World Wildlife Fund, Brides for Cancer, Sick Kids Hospital and Red Door.  We collected and dry cleaned hundreds of suits, blouses and other business attire for free so women who were victims of abuse would have something to wear on job interviews.
Our contributions extend to the sick kids hospital to local girls hockey teams and community organizations.
Eco Cleaners is a family business dedicated to its clients, its community and its city.